Equal Participation, Innovative Development
2016 W20 Meeting Highlights 'She Power' to the World
Date of publication: 2016-06-28 16:36:00 Source: G20 official website
The 2016 Women-20 (also known as W20) Meeting was hosted by the All-China Women's Federation (ACWF) in Xi'an from May 24-26. The Meeting, with the theme "Equal Participation and Innovative Development", attracted around 200 participants, including women ministers, high-level officials and representatives of women's organizations, the academia and business sectors, from sixteen G20 members, seven guest-countries and four related international organizations. Participants discussed measures to implement the Communique of the G20 Summit, strategies to promote women's development, gender equality, and inclusive growth, and also shared good experiences and best practices. The Women-20 Meeting Communiqué was adopted.
The W20, as an engagement group within G20, was established in May 2015. Its mission is to promote gender inclusive growth, and advance G20's commitments on women's empowerment. The first W20 Summit was held in Turkey in October 2015.
Chinese Vice President Li Yuanchao Attended the Opening Ceremony and Delivered a Speech
Chinese Vice President Li Yuanchao attended the opening ceremony of the 2016 W20 Meeting and delivered a speech. Li pointed out that the four initiatives put forward by President Xi Jinping at the Global Leaders' Meeting on Gender Equality and Women's Empowerment embody the global consensus on women's equal participation and gain broad recognition by the international community. He hopes that countries could work together to translate the initiatives into reality. Countries should adopt proper development strategies and innovative policies to promote women's equal participation in development process and encourage more women to add impetus and make contribution to economic growth. It is important to strengthen women's capacity building, give play to the unique role of women, promote their equal participation in social management, enhance family happiness, social harmony and inclusiveness. Women's rights and interests should be vigorously protected. More attention should be paid to poor, disabled and elderly women and other vulnerable women groups, so that they could have equal share of development benefits.
Shen Yueyue, President of the All-China Women's Federation, said in her speech that the ACWF, as the largest women's organization in China, has been committed to representing women, safeguarding their rights and interests, and promoting gender equality since its establishment six decades ago. Shen said the federation has always attached importance to women's development as well as the protection for women's rights, dealing with the issues that directly reflect women's concerns, making efforts to advance women's cause. ACWF works to translate President Xi's initiatives into reality, unites and leads Chinese women in national construction, and advances women's cause in China. We will work with all countries to explore new forms of exchanges and cooperation to achieve common development, Shen said.
Song Xiuyan, Vice Chairperson of the National Working Committee on Children and Women under the State Council, Vice-President and First Member of the Secretariat of the ACWF chaired the opening ceremony. Ay?e Hilal Sayan Koytak, Deputy Secretary of Ministry of Family and Social Policy, Turkey, Lakshmi Puri, Deputy Executive Director of UN Women, Wang Xiaolong, Chinese G20 Sous Sherpa and G20 Special Envoy, Ministry of Foreign Affairs, China, Lou Qinjian, Secretary of Shaanxi Provincial Committee of the CPC, China, spoke at the opening ceremony.
Sharing Experiences
High-level meeting was held in order to enhance understanding and communication among government, civil society and private sectors. Focusing on the theme of "Equal Participation and Innovative Development", ministerial and high-level representatives shared their country's practices, achievements and experiences in promoting women's participation in economic development.
Song Xiuyan, Vice Chairperson of the National Working Committee on Children and Women under the State Council and Vice-President and First Member of the Secretariat of the ACWF, chaired the high-level meeting and said in her speech that China always upholds the constitutional principle of equality between men and women which is also a basic state policy for promoting social and economic progress. Song introduced China's efforts to promote women's equal participation in economic development and equal share of the development benefits from three perspectives: improving laws and regulations for gender equality, promoting employment and entrepreneurship, strengthening capacity building and encouraging innovation.
Four plenary sessions, with sub-themes, namely "A Gender Perspective in Global Economic Governance," "Women's Employment and Entrepreneurship and Social Protection," "Women's Role in the Digital Economy" and "Interconnected and Innovative Women's Network", were held during the W20 Meeting. Participants discussed ways to increase women's participation in global economic development, promote women's empowerment and gender equality. It is believed that women's participation is essential for world economic rise. A more fair, equitable, inclusive and orderly system of global economic and financial governance with a gender perspective will strengthen world economic growth. Women are important human resources, and major force to promote innovation and entrepreneurship. Encouraging and supporting women's business creation will not only solve the problem for women's employment, but also create more jobs for others. It is of great significance to solving the issue of unemployment and will create new growth engine. Countries should also attach importance to women's potential and role in the digital economy, encourage and train women to use internet for employment and entrepreneurship, build and participate in business networks and associations, as well as value chains globally and regionally, so as to gain mutual benefits. Countries should strengthen international cooperation for women, build platforms and networks for women to actively, effectively and creatively participate in economic activities, strengthen capacity building, information exchanges and the promotion of best practices, support women in cross-border trade and global economic development.
Outcome of the Meeting
Meeting for the W20 Executive Committee was held to discuss the long-term development of W20. The W20 Meeting Communique was adopted through consultation and by consensus. The Communique reaffirms that gender inclusiveness and gender equality are essential for strong, sustainable and balanced growth, welcomes the establishment of Women 20 as an outreach group of the G20. It puts forward recommendations for women's participation in global economic governance, employment, entrepreneurship and social protection, women's role in the digital economy, and the establishment of women's network. Recommendations include: promote women's economic empowerment and participation, work to integrate gender perspectives into all activities of G20, integrate gender mainstreaming into macroeconomic policies, and gender perspectives into economic governance; eliminate gender wage gap, improve working conditions and benefits, promote work-life balance, strengthen social security system, and increase female labor force participation, etc.
In her closing remarks, Song Xiuyan said the Meeting was substantial and fruitful. Participants worked together and shared thoughts on how to implement G20 commitments, and further promote women's participation in economy and gender inclusiveness. Song pointed out the Meeting will strengthen women's roles in world economy, provide energy and impetus for the innovative, invigorated, inclusive and interconnected world economy, and will also set up a bridge of understanding, friendship and solidarity among the participants to further deepen communication and cooperation.
1、Participants of the 2016 W20 Meeting
2、Li Yuanchao, Vice-President of the People's Republic of China, Addresses the Opening Ceremony
3、Shen Yueyue, President of the All-China Women's Federation(ACWF), Speaks at the Opening Ceremony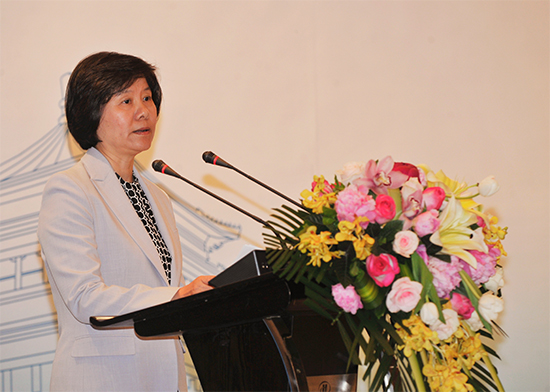 4、Lakshmi Puri, Deputy Executive Director of UN Women, Speaks at the Opening Ceremony
5、Song Xiuyan, Vice Chairperson of the National Working Committee on Children and Women under the State Council, Vice-President and First Member of the Secretariat of ACWF, Chairs the High-level Meeting and Speaks
6、Ghada Wally, Minister of Social Solidarity, Egypt, Speaks at the High-level Meeting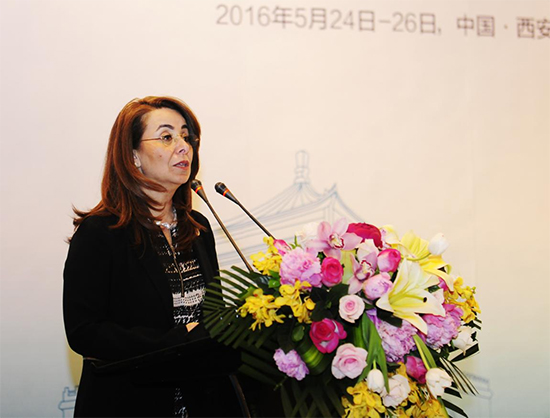 7、High-level Meeting
8、Cheng Donghong, Vice President of China Association for Science and Technology, Executive Vice President of China Women's Association for Science and Technology, Speaks in the Plenary Session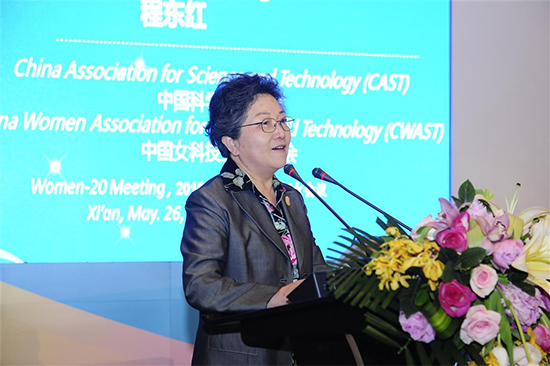 9、Yang Lan, Chairperson of Sun Media Group and Sun Culture Foundation, China, Moderate the First Plenary
10、Plenary Session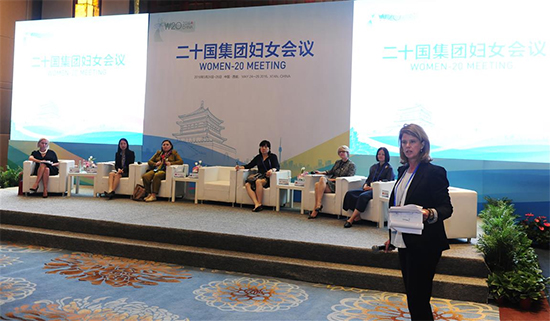 11、Plenary Session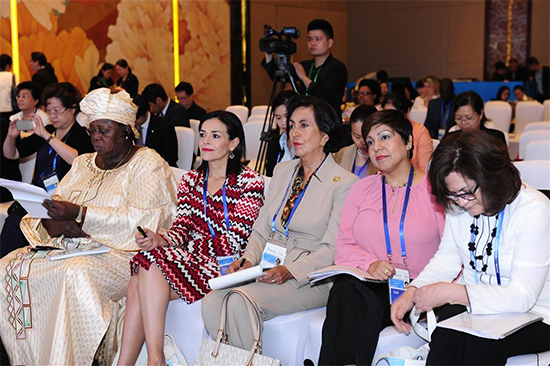 12、The W20 Meeting Communique was Adopted at the Closing Ceremony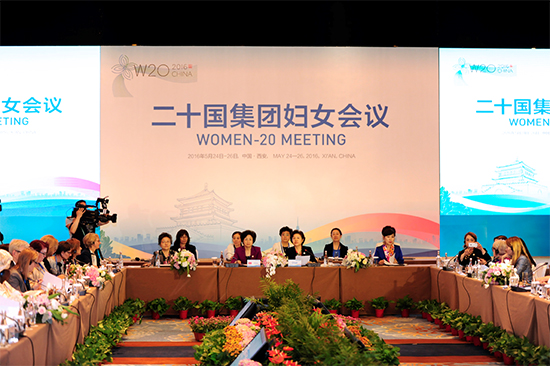 13、Ms. Song Xiuyan, Vice Chairperson of the National Working Committee on Children and Women under the State Council, Vice President and First Member of the Secretariat of All-China Women's Federation, China, Delivers the Closing Remarks
14、Ms. Meng Xiaosi, Vice President and Member of the Secretariat of All-China Women's Federation, China, Chairs the Closing Ceremony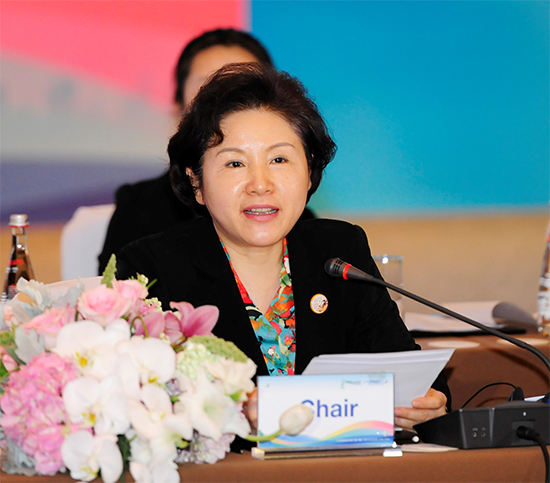 15、Ms. Claudia Grosse-Leege, General Manager of Verband Deutscher Unternehmerinnen, Germany, Introduces the Plan for 2017 W20
16、Participants Sharing Experiences
17、The Tang Dynasty Grand Welcoming Ceremony Held for the Participants of the 2016 W20 Meeting at Yongning Gate
18、Participants Visit the Emperor Qinshihuang's Mausoleum Site Museum ( Terracotta Warriors)